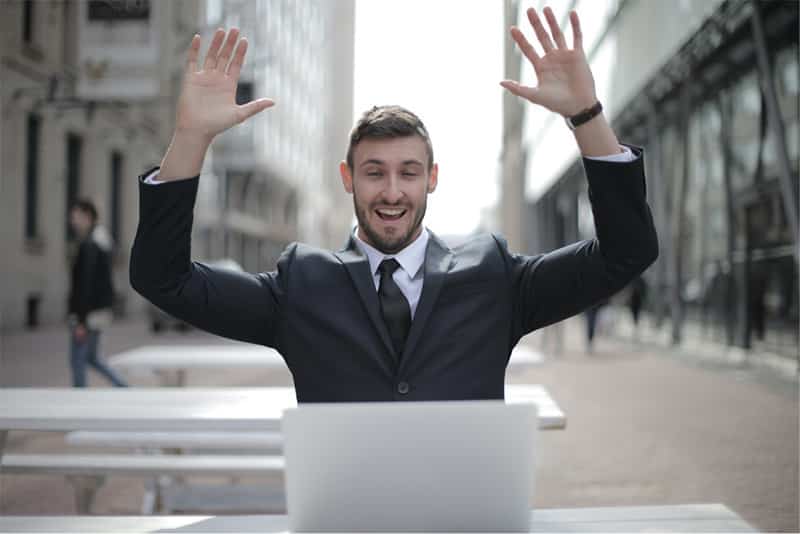 Whether you are leading an entire company, a department, or a small team, if you want to be a successful leader in business, there are certain traits you must acquire. While being a leader is not a one size fits all position, the most successful leaders share a set of personality traits.  This blog post will outline the 5 common business leadership skills you will want to improve over time.
As you read these qualities, be sure to consider where you stand on a scale of 1-5, 1 being it doesn't describe you at all and 5 being it describes you perfectly. If you find that your rating is a 3 or below, you want to think about developing your leadership skill in that area. It has been said that employees don't quit their job, they quit their boss, so if you can ensure you're the best leader possible, you will likely increase retention rates, productivity, and engagement within your company.
For more on improving employee engagement, get a copy of my book, 5 Tips to Improve Employee Engagement, for free. Decisiveness
Leaders are required to consistently.  Those who you lead look to you to take action that will move the company forward.  If you are unable to make decisions that will benefit your team, department, or company, you will be unable to succeed in a leadership position.
Decisions will sometimes need to be made quickly, so you must practice your ability to make choices that require quick, on the spot decision-making skills.
Other decisions are based on a long-term plan and require collaboration, strategy and more thought to be successful.
Leaders sometimes believe that to be a good decision maker they must do it independently, but often, making decisions will involve communicating with other stakeholders in the company from various levels.
Being able to communicate through the decision-making process and come to a conclusion that suits everyone involved is one of the signs of a real business leader.
Integrity
Integrity is your ability to be honest and behave in an upright manner.  As a leader, others are always looking at you to see how you react in situations and will see you as an example of what to do and how to move throughout the company.
You must carry yourself with integrity to be a leader that guides others.  You don't have to be perfect and maintain a 100% squeaky clean image with no room for error, that's difficult to manage, instead, be honest.  Be relatable. Be real with your team.
If you make mistakes, explain what happened and what could be done differently in the future. Do not put yourself in a position to fake being perfect, then let down your team when they realize that you are only human.
Also, do not take the idea that you are only human too far. You must always keep in mind that you are the example of leadership within your company.
Knowledge
As the leader in business, you have to know what's going on in your company and your field.  You're not required to be an expert on every topic within your business, but you should have a general understanding of most issues related to your niche.
In certain situations you won't be able to provide the necessary resources or information, so it's important to know where to quickly access information that's required to move your company forward.
If you lack a strong knowledge base, people will see your deficiencies and recognize that you don't know much about the area in which you call yourself a leader.
Endurance
Endurance is the ability to keep going.  As a leader in business, you must keep going because all eyes are on you.  If you're unable to maintain endurance as the leader, others will see that it's okay for them to stop when things get hard.
It's an excellent teachable moment for your team to let them sometimes know when you are feeling tired or stressed and what you do internally to keep yourself going so you don't quit.  They will see you as more relatable and hopefully learn from you instead of believing you're a corporate robot who never has a bad day.
Also, when you lead others, they will turn to you as a shoulder to lean on when times get tough for them.  Having to motivate them to keep going and keep yourself going can be taxing, that's why having enough endurance to support yourself and those around you is crucial.
Building a supportive company culture is a great way to lift the burden off everyone's shoulder and improve endurance all around.
Imagination
When you hear the word imagination, you might envision crayons, glitter, painting and imaginary friends, but imagination is a an authentic and crucial quality of a leader in business.
Having imagination is the ability to develop an idea based on something that isn't currently true and believe you have what it takes to make it come to life.  Any leader without the ability to imagine a better future for the organization in which it leads will always be holding back the company.
When Amazon offered first went public in 1997, and a share was only $18, Jeff Bezos, founder of Amazon, and his team imagined the company growing.  As of October 2018, Amazon stock is over $1,600 per share.
When Oprah Winfrey started her career as a radio personality in Nashville, TN, she imagined that her career would grow beyond her then position. Now Oprah's net worth is 2.9 billion, not million, dollars.
Many successful people have had to imagine their success before they experienced it or imagine their business improvements, upgrades, significant changes and partnerships before they became real.  You must do the same.
When you are a strong leader in business, those who you lead will recognize it and respect it.  While many leadership traits vary from the 5 detailed above, be sure you have these established as a bare minimum set of qualities you concentrate on building.